June 2021

Posted by Admin on Jun 30 2021
News >>
Public Liaison Officers from RPS, Galway, Roscommon and Westmeath County Councils continue to meet farmers and landowners on their lands in the scheme consultation areas.
We are very encouraged to see that many farmers and landowners are receptive to the idea of a greenway on their lands. We have also met and talked to farmers that do not wish to accommodate a greenway on their farms, for many genuine and understandable reasons. We are increasingly confident that a route or routes can be found where the greenway can be delivered though agreement in the vast majority of cases, which is a central goal of the project.
We have prepared a report outlining the feedback received during the second public consultation in February this year. This report is available by clicking here.
There are still 5 broad route corridors under consideration for the cycleway, from which a preferred corridor will be chosen. We would like to reassure landowners that we will not proceed to the next stage of the project, identification of a preferred corridor, until those involved have been widely consulted. This process is expected to take a little longer than envisaged earlier this year, due to the ongoing COVID 19 restrictions.
Our current programme is shown below. We expect to choose an emerging preferred route corridor late this year, and display it at a further public consultation event before Christmas.
The Project Team want to maintain a strong level of communication throughout the project, so we would like to remind everyone that we can be contacted by calling 091 509267 or by emailing info@galwaytoathlonecycleway.com.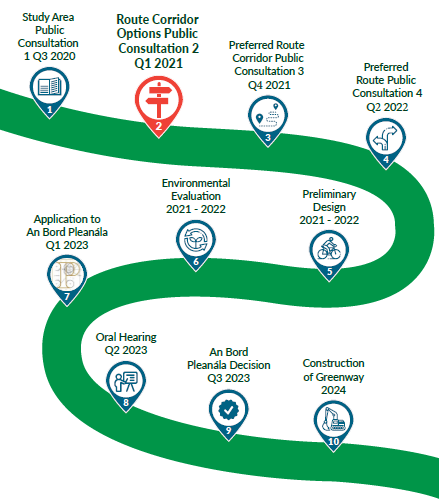 Last changed: Jul 08 2021 at 11:20 AM
Back to Overview