Welcome to the new Galway to Athlone Cycleway Project
Public Consultation 3 is now closed, but the Virtual Consultation Room remains open for information.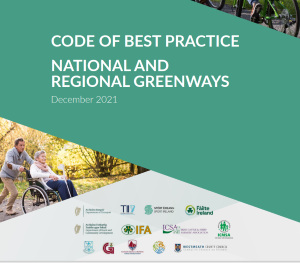 Code of Best Practice now published December 2021
After a five-year pause, the Galway to Athlone Cycleway is being developed with a fresh new start. New consultants, RPS, have been appointed and given a blank canvas to develop a route for the cycleway. There will be four focused periods of public consultation. The first consultation started on 10th August 2020, to hear people's views on the Project and the proposed Study Area. The second public consultation took place in January 2021, showing the route corridor options. The third consultation is starting on 8th December 2021, showing the emerging preferred route corridor option.
The Project
The Galway to Athlone Cycleway will complete the over 300km car-free corridor between Galway and Dublin for cyclists and walkers.The project is being led by the local authorities, Galway City Council and Galway, Roscommon and Westmeath County Councils.
Consultants, RPS from Galway, were appointed in 2020 to start with a blank canvas to identify a project study area and constraints. This work is being informed by public consultation, before the project team undertakes environmental studies and detailed design.
A planning application will then be prepared for An Bord Pleanála's consideration in around three years' time. The project team appreciates that there is an impact on landholdings and wants to assure landowners that it is listening and will do all it can to work with them to manage that impact. That is why it is important for landowners to engage with the project team to ensure they can inform the design from the earliest stages.
Part of the Galway to Dublin Cycleway
The Department of Tourism, Transport and Sport is developing National and Regional Greenways across Ireland to enhance tourism and contribute to rural development.The new Galway to Athlone Cycleway is a large section of the Galway to Dublin Cycleway that will extend to 270km, making it Ireland's longest Cycleway so far.The Galway to Dublin Cycleway will be a world class amenity for pedestrians, cyclists and wheelchair users to enjoy – locals and tourists alike. It will even facilitate the first leg of the international EuroVelo network of long-distance cycling trails in Europe and will link Galway to Moscow!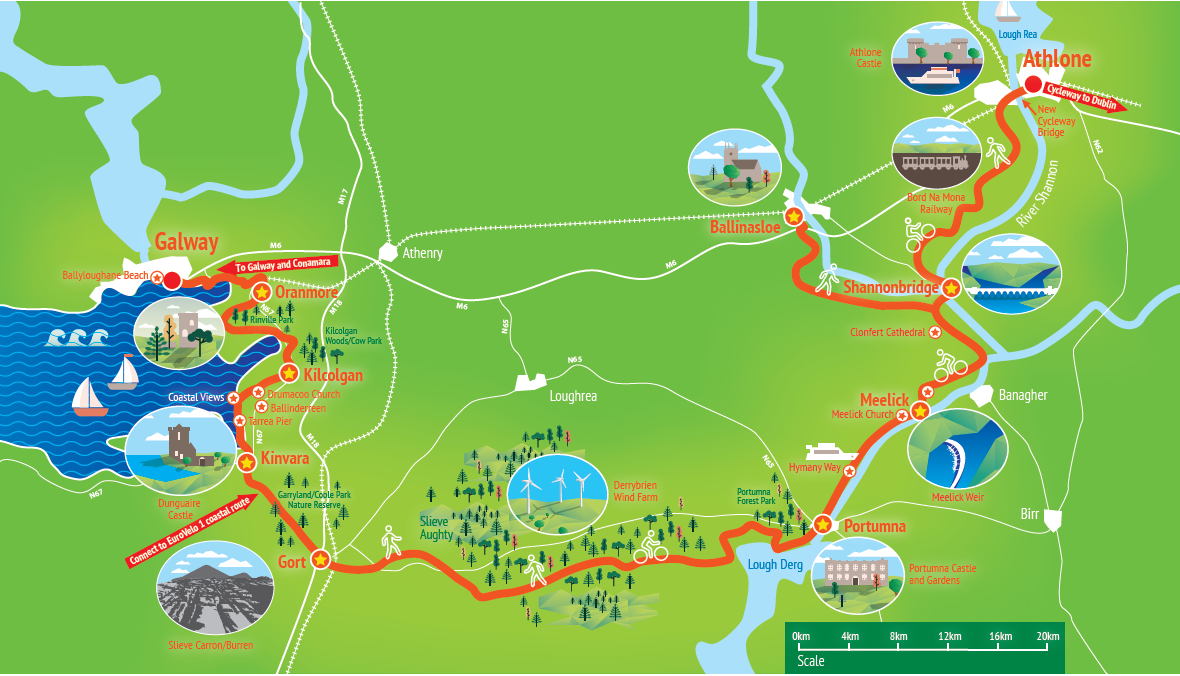 Objectives
The project aims to:
Maximise the value of existing infrastructure and natural amenity
Protect areas of environmental sensitivity through the design process and in future maintenance and management
Develop a tourism experience that caters for a broad range of visitors
Be designed to international best practice and in accordance with adopted standards
Give regular access to visitor attractions and services along the corridor
Be connected with public transport hubs
Be in line with the Government's five 'S' criteria - Scenic, Sustainable, Strategic, Segregated and lots to See and do, in conjunction with environmental, engineering and financial considerations.
Project Team
The local authorities, Galway City Council and Galway, Roscommon and Westmeath County Councils are developing the Galway to Athlone Cycleway, in partnership with Transport Infrastructure Ireland (TII) and the Department of Transport Tourism and Sport (DTTAS).
Consultants RPS from Galway were appointed in 2020 to work with the project team.